The Independence Series (1100)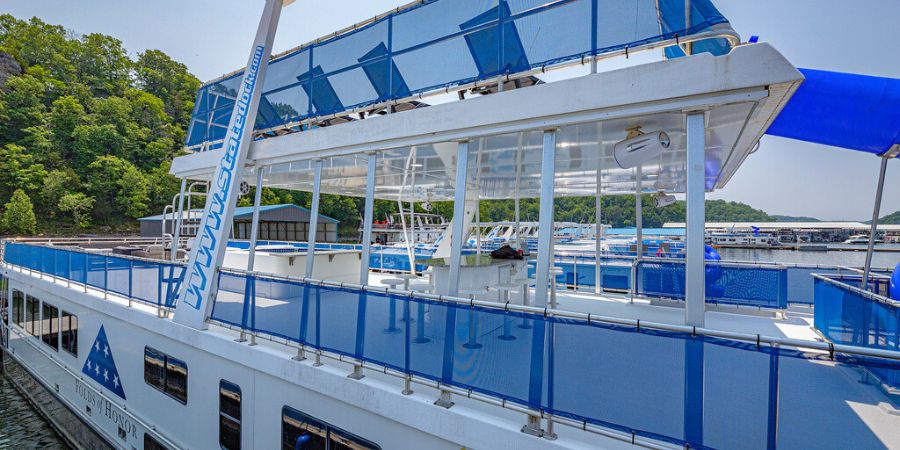 Embark on an epic lakeside adventure with the magnificent Independence Series 1100! This colossal beauty stretches a whopping 22 feet by 90 feet, offering your group an abundance of space to unwind and revel in the great outdoors of Lake Cumberland. Get ready for the ultimate outdoor experience as this behemoth boasts a third-level sundeck complete with a thrilling two-story tube slide, a rejuvenating 12-person hot tub, an enormous gas grill for sizzling outdoor feasts, and a massive 15-person table where you can gather for unforgettable meals under the open sky.
Step inside this impressive vessel and discover a world of comfort and luxury amidst the wilderness. With 8 spacious bedrooms and 3 full baths, it's your cozy retreat after a day of outdoor exploration. The interior is a marvel with its double-door refrigerator for chilling your beverages, a roomy bar top perfect for mixing up wilderness-inspired cocktails, and an expansive salon area adorned with large windows that offer breathtaking panoramic views of the pristine lake.
Vacations Starting at $11,926
Call us: 888-782-8336
---
Houseboat Vacation Schedule
3 NIGHT WEEKEND
Thursday at 2:30pm – Sunday at 8:30am
Friday at 2:30pm – Monday at 8:30am
4 NIGHT MIDWEEK
Sunday at 2:30pm – Thursday at 8:30am
Monday at 2:30pm – Friday at 8:30am
7 NIGHTS DEPARTS AT
2:30pm and Returns at 8:30am
Sunday, Monday, Thursday or Friday
Boat Overview
Dimensions:

90' (length) x 22' (width)

I/O Diesel Engine:

2

Central Air Contioning:

Yes

Power inverter:

Yes

Sundeck:

Yes

Party Top:

Yes

Flybridge:

Yes

Washer/Dryer:

Yes
Outside Amenities
Slides:

2 story tube

Hot tub capacity:

12
Sleeping Accommodations
Cabins:

8

Baths:

3

Sleeps:

16
Cooking
Stove:

Yes

Refrigerator:

Yes

Freezer:

Yes

Dishwasher:

Yes

Grill:

Yes

Bar:

Yes
Entertainment
Smart TVs:

Yes

Bluetooth Speaker:

Yes

WiFi:

Yes
Boat Dimensions